What Is Mirai e no Kioku?
The Mirai e no Kioku project, begun on June 28, 2011, invites people to post still or video images of beautiful or nostalgic scenes lost to the Great East Japan Earthquake on online photo/video sharing sites (Picasa or YouTube). A Website, dedicated to the project, will then display the contributed images.

Mirai e no Kioku activity report, March 5, 2012
For reference, 20th Century Archive Sendai, an NPO, accepts photos sent from cell phones for this site as attachments to emails. Photos sent to that organization will be forwarded to this site from its account and based on its own editing policy.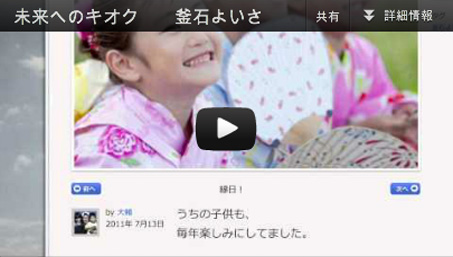 How to submit photos by cell phone
State the four items below in your email text and send it to miraikioku2011@google.com by attaching your photo(s).
1. Theme of your photo(s)
2. Reason for wanting to help collect kioku
3. Your name (or nickname)
4. Age

To change or delete photos submitted from your cell phone, contact miraikioku2011@google.com.
About the NPO 20th Century Archive Sendai
This organization collects and archives photographs, videos, films, and other records left by local residents as a vernacular document, while providing a venue for inter-generational communication. It has published Classical Sendai, a collection of photographs of Sendai in the mid-1950s to mid-1970s, and hosts screenings of 8 mm footage and photo exhibitions related to the local area.

In the wake of the Great East Japan Earthquake of March 2011, 20th Century Archive Sendai began collecting snapshots of the disaster taken by local residents and established a Great East Japan Earthquake archive site in April of that year. Called 3.11—Records of the Disaster as Photographed by Citizens, this site prevents the experiences from fading from people's memories and hands them over to posterity. Also launched was the 3.11—Date-na Musubiai Project for publishing contributed photos in a book, and marketing Musubiai Bandannas to connect those afflicted by the disaster with people around Japan. Proceeds from the sale of the bandannas are used to create the book of photographs, and purchasers are credited in the book as supporters of the project.

20th Century Archive Sendai, the NPO's official Website
Copyright
The terms of use of Picasa or YouTube apply to matters concerning copyright and other rights and use of photos/videos contributed to this project. On Picasa and YouTube, you may license your photos/videos to third parties by using a Creative Commons license (in the case of YouTube, however, you may use a Creative Commons license on the proviso that your YouTube account is in a sound state). For instance, if you submit a photo with a CC-BY license, i.e., by allowing its secondary use by others, that photo may be altered or used for commercial purposes by any third party so long as the third party credits you as the author. Visit http://creativecommons.org/ for more details.

Explanation of Creative Commons: http://creativecommons.jp/licenses/#ixzz1QCRHcGAm

For how to set a licensing condition on Picasa and YouTube, see below.
Licensing secondary use of photos
Licensing secondary use of videos
About inappropriate submissions
If you see a posting that breaches the terms of use of Picasa or YouTube, you may contact the operating team of either service by using their reporting feature. If you find a posting that is inappropriate for use for this project, you may contact the project's secretariat by using the reporting feature on the details page. Please note that the secretariat can prevent an inappropriate photo/video from being posted or can withdraw an image from this site, but it cannot withdraw any photos/videos from Picasa or YouTube.
Click below for frequently asked questions.
FAQ
For inquiries